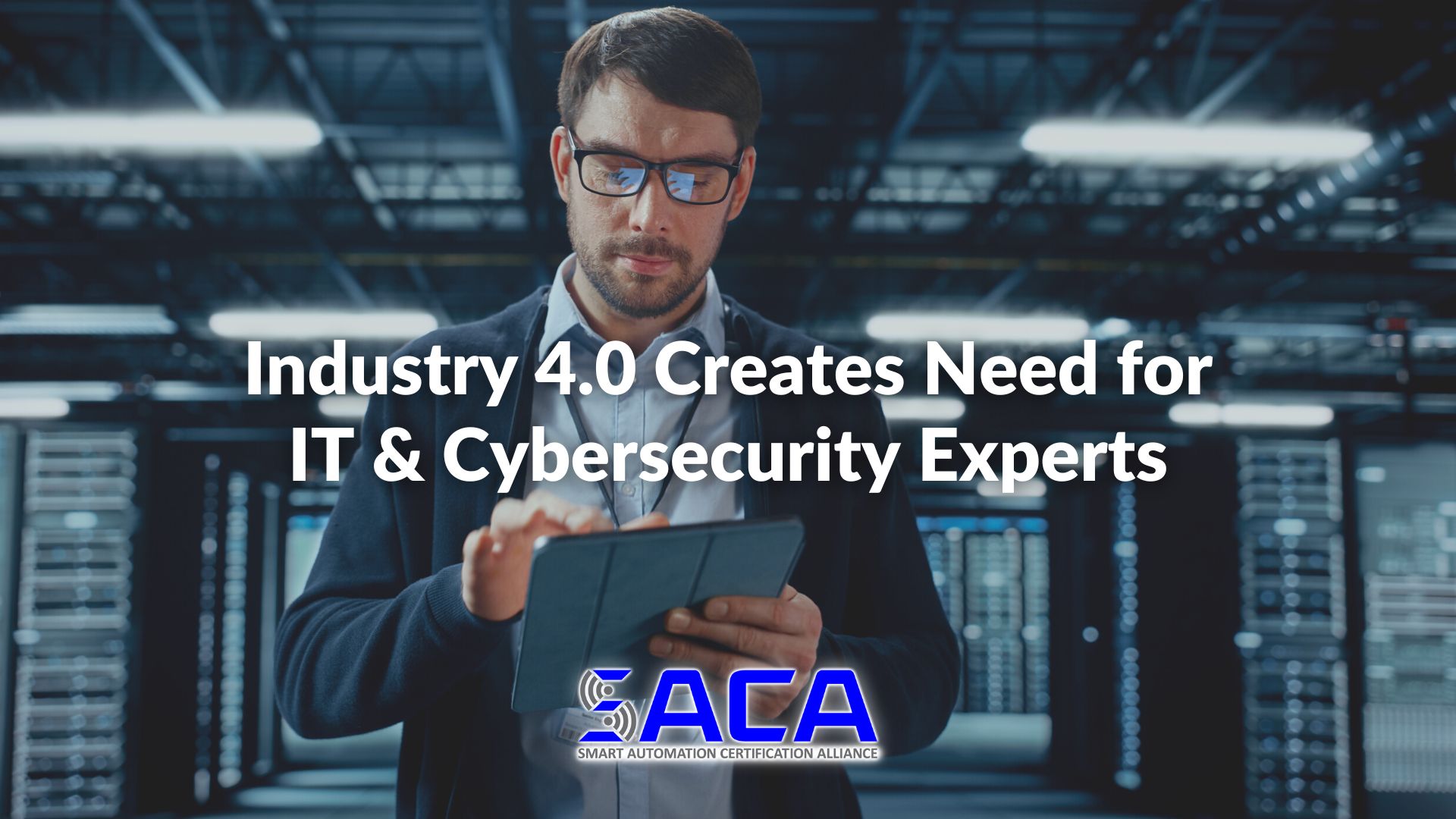 The challenges facing industries across the country and around the world continue in the ongoing wake of the COVID-19 pandemic. When you add staggering inflation to supply chain disruptions, it's no wonder companies everywhere are searching for ways to increase productivity and efficiency.
One of the primary solutions many companies are embracing is a range of advanced automation technologies collectively known as the Industrial Internet of Things (IIoT) or Industry 4.0. The shift to connected-systems technologies began well before the pandemic, but the effects of the pandemic have greatly increased the adoption rate of Industry 4.0 technologies.
Whether it's adding robots, autonomous mobile robots (AMRs), or sensors to machines, Industry 4.0 technologies are gaining ground and making a difference. However, adoption of these new solutions can also create an entirely new set of needs that companies must address.
In this article, we'll take a brief look at how Industry 4.0 technologies create a need for specialized IT and cybersecurity experts to oversee and manage these new solutions. We'll also explain how the Smart Automation Certification Alliance (SACA) can help companies find the right experts with the advanced Industry 4.0 skills they need to take their businesses to the next level.
Looking to Industry 4.0 for Solutions
Regardless of your industry or the size of your company, no one has been immune from the continuing effects of the COVID-19 pandemic and the subsequent supply chain issues and rising costs associated with inflation. For many companies, it seems like it's simply one thing after another with a new challenge arising every day.
To combat these problems, companies everywhere are searching for solutions that allow them to increase productivity and efficiency even in the midst of an extremely tight labor market. As a recent Automation.com article by Henry Martel points out, "an increasing number of [manufacturers] are embracing Industry 4.0 to bolster enterprise efficiency by making their manufacturing more aware, predictive, and autonomous."
But what does embracing Industry 4.0 really mean, in a practical sense? Martel breaks it down for us in his article:
"The shift from Industry 3.0 to Industry 4.0 involves the convergence between information technology (IT) and operational technology (OT). Connecting OT systems to an IT network allows a more detailed view of individual equipment and creates a comprehensive view of the entire ecosystem, simplifying management and operation. Besides allowing machines to be largely operated autonomously without human supervision, Industry 4.0 creates higher value when data collected from intelligent sensors and actuators connected to equipment leads to better decision making, as well as to the 'learning' that's now possible with artificial intelligence (AI) and machine learning (ML)."
For example, Martel explains that "analyzing big data collected from sensors on the factory floor provides real-time visibility of manufacturing assets to facilitate predictive maintenance in order to minimize costly downtime. In this instance, machine learning algorithms detect and target faulty parts before they wear out, rather than wait until repair work is more expensive."
In addition to machine learning, Industry 4.0 takes advantage of artificial intelligence "to analyze sensor data to track equipment usage, improve workflows, streamline logistics, increase safety, and achieve higher overall efficiency across OT and IT operations." In this way, "Industry 4.0 unlocks actionable data throughout the plant and beyond, improving operational awareness in manufacturing and maintenance processes."
The benefits of these new advanced automation technologies are clear, and early adopters are seeing huge gains in both efficiency and productivity. However, these Industry 4.0 technologies do create a new need for companies: IT and cybersecurity experts that can operate, program, maintain, troubleshoot, and repair these intricate and complex systems that generate enormous amounts of data.
The Need for IT & Cybersecurity Experts
A recent Embedded article by Johan Kraft paints a clear picture of the IT and security needs created by these new "immensely complex" IIoT systems. As Kraft notes, "[o]ne of the defining features of Industry 4.0 is distributed sensing. This latest iteration of industrial automation sees a dramatic increase in the sensor nodes used to monitor equipment and processes, all linked up to gateway devices in a complex industrial internet of things (IIoT)…But this also requires more focus on the security of the network to ensure safe operation."
Why is security such a critical issue with Industry 4.0 systems? Kraft explains: "Most industrial systems have been isolated in closed loop systems. Industry 4.0 opens these systems up to the wider Internet and higher risks of compromise." Martel agrees:
"But just as these new technologies have created the opportunities for optimization, they have also introduced new risks and security threats, creating a completely different threat vector than PC-based networks. Industry 4.0, for all its benefits, makes 'Industry' an appealing target for cyber-attacks. The expanded attack surface gives bad actors the opportunity to move laterally across a network, jumping across IT and OT systems for industrial espionage, intellectual property theft, IP leakage, or even production sabotage. For this reason, cybersecurity best practices must be acknowledged as one of the pillars to a successful Industry 4.0 strategy."
Kraft points out that security risks to industry are all too real: "The latest Pipedream malware is deliberately targeting industrial automation and SCADA systems. This does not exploit a vulnerability but uses the inherent functions of the programmable logic controller (PLCs)."
Martel sums up the need as follows:
"Before Industry 4.0, OT devices and systems were 'air-gapped' to isolate them from risk. That is not possible today. Industrial switches, media converters, and wireless routers must feature robust, DoD-compliant layer 2 and layer 3 security that helps manage network traffic at scale."
How SACA Certifications Can Help Companies Find the Talent They Need
The need for advanced Industry 4.0 technologies is clear, and their benefits are many. But how can companies unfamiliar with the types of IT issues and cybersecurity concerns involved with Industry 4.0 technologies navigate their way through these obstacles?
Fortunately, they don't have to figure everything out by themselves. The Smart Automation Certification Alliance (SACA) sits at the forefront of the effort to certify students and workers who demonstrate the required knowledge and hands-on smart automation skills employers so desperately need, including advanced IT systems and cybersecurity.
SACA's certifications were developed in conjunction with industry partners who could speak from experience about their needs when it comes to workers able to work alongside a variety of advanced automation technologies. For example, SACA offers a Certified Industry 4.0 IT Systems Specialist certification that prepares individuals to succeed in information technology technician and engineering positions in modern production environments that use Industry 4.0 technologies.
This certification features a variety of elective micro-credentials that are ideal for individuals seeking to become versed in Industry 4.0 automation, such as: robot system operations and integration; programmable controller systems; industrial Ethernet communications; smart sensors; SCADA systems; Industry 4.0 data analytics; and industrial network security systems.
For workers, SACA certifications can help market their smart automation skills to potential employers. For those employers, SACA certifications represent confirmation that a worker has the skills to hit the ground running in the workplace.
To learn more about Industry 4.0 certifications and how SACA can help both future workers and industrial employers begin the task of bridging the Industry 4.0 skills gap, contact SACA for more information.