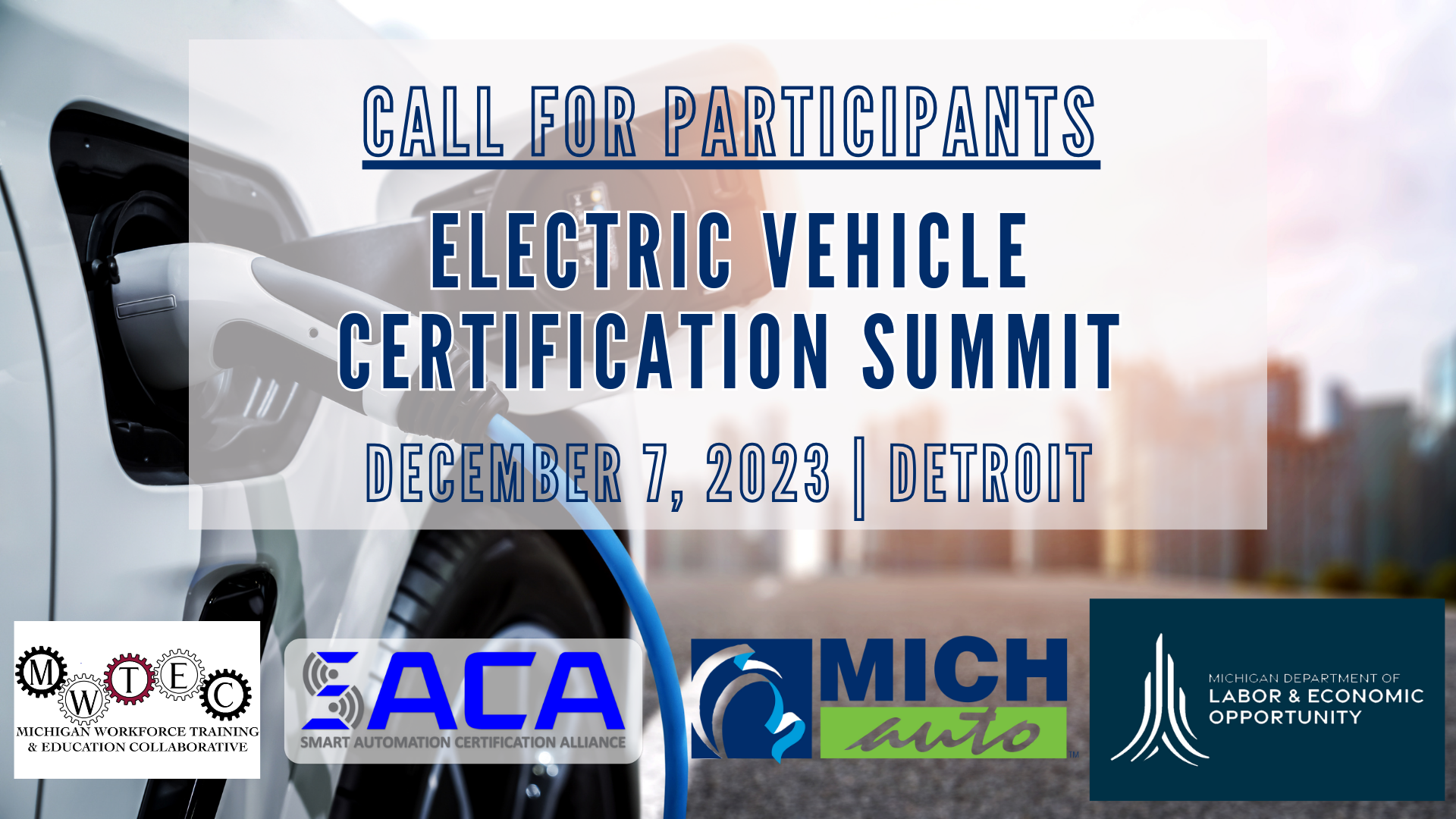 Join us for the SACA/MICHauto/MWTEC/LEO exclusive Electric Vehicle Certification Summit
The Smart Automation Certification Alliance (SACA) is partnering with MICHauto, the Michigan Workforce Training and Education Collaborative (MWTEC), and the Michigan Department of Labor and Economic Opportunity (LEO) for the Electric Vehicle Certification Summit. The Summit will include in-depth discussion about what industry-approved certifications are needed to train and upskill the Electric Vehicle and Electric Battery workforce. This event will also include the development of standards and validation of SACA's Electric Vehicle Battery Basics certification.
We're calling on automotive industry experts to attend the Summit and offer your expertise. This is an opportunity for your organization to have input on the skills and competencies needed for today's Electric Vehicle and Electric Battery workforce.
Your input will be used to create nationally-recognized, occupation-driven certifications and EV training programs for careers like Operator/Assembler and Technician/Skilled Tradesman. Additionally, SACA will seek your feedback on future needs of industry and technology trends that will help shape their strategy moving forward.
Interested? Here are the details:
SACA/MICHauto/MWTEC/LEO Electric Vehicle Certification Summit
December 7, 2023
MICHauto
One Kennedy Square
777 Woodward Ave, Suite 800
Detroit, MI 48226
For more information including an agenda, download the brochure.
About SACA
SACA sits at the forefront of the effort to certify students and workers who demonstrate the required knowledge and hands-on smart automation skills employers so desperately need. SACA's certifications were developed in conjunction with industry partners who could speak from experience about their needs when it comes to workers able to work alongside a variety of advanced automation technologies.
SACA offers a wide variety of certifications in popular industrial skill areas, including certifications at the Associate, Specialist, and Professional level. For those wishing to focus on building a strong foundation of skills employers need, SACA also offers many micro-credentials that allow students and workers to add certifications as they master new areas.
For workers, SACA certifications can help market their smart automation skills to potential employers. For those employers, SACA certifications represent confirmation that a worker has the skills to hit the ground running in the workplace. To learn more about Industry 4.0 certifications and how SACA can help both future workers and industrial employers begin the task of bridging the Industry 4.0 skills gap, contact SACA for more information.