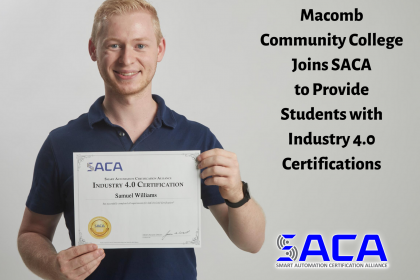 LOUISVILLE, KY—AUGUST 17, 2020
The Smart Automation Certification Alliance (SACA) is pleased to announce that it has recently entered into an agreement with Macomb Community College and ATS Midwest to support the college's efforts to align its education and training to meet the realities of Industry 4.0. Students completing Macomb's advanced manufacturing programs will soon earn SACA certifications, giving them a competitive advantage in today's job market.
Today's students face a far different world of advanced manufacturing than existed a decade ago. While automation technologies have been commonplace for many years, the Internet has brought about a convergence of new "connected" technologies that is revolutionizing how products are made.
Known as the Fourth Industrial Revolution or Industry 4.0, this latest disruption of the advanced manufacturing world is resulting in reduced downtime and increased quality, productivity, and overall efficiency in industries of all kinds thanks to advanced technologies that make up what is known as the Industrial Internet of Things (IIoT).
IIoT technologies include such things as advanced robotics, machine learning, artificial intelligence, autonomous vehicles and machines, cloud-based data analysis, and cybersecurity. As companies increase their use of networks and Internet technologies, they are connecting more devices, from smart sensors to smartphones.
As a result, these highly-connected systems require new skills in almost every occupation. To succeed in an Industry 4.0 environment, current workers and today's students must learn to interact with software, data, networks, and smart devices.
While there are many certifications available today that address isolated competencies, from machining to maintenance and information technology (IT), SACA certifications are different. SACA's Industry 4.0 certifications certify "connected systems" skills that address the integration of the many types of advanced manufacturing technologies with Industry 4.0 technology.
SACA's Industry 4.0 certifications have been developed for industry by industry through a rigorous process that began with the creation of truly international skill standards. These standards have been endorsed by leading experts in Industry 4.0 technologies around the world.
Working with forward-thinking institutions like Macomb will enable SACA to accomplish its vision to provide highly-affordable, accessible Industry 4.0 certifications that significantly increase the number of individuals who possess the skills represented by these credentials.
The result will be an increasing number of students prepared to be successful in an Industry 4.0 world, as well as more companies that have the highly-skilled workers they need. Don Hutchison, Macomb's Dean of Engineering and Advanced Technology, agrees:
In southeast Michigan, industry already needs employees who understand how advanced manufacturing systems integrate. At Macomb, we are listening to industry and creating training for individuals and industry that meets the challenges and opportunities of Industry 4.0. Arming Macomb's graduates with SACA certification signifies to employers that they are prepared to successfully navigate the complex, integrated nature of today's manufacturing environment.
Fortunately, Macomb also enjoys the support of local industry. Tom Kelly, Executive Director and CEO of Automation Alley, Michigan's leading manufacturing and technology business association and Industry 4.0 knowledge center, supports Macomb's vision:
It is encouraging to see Macomb Community College commit to Industry 4.0 training, which will help to ensure industry receives graduates with employable skills. Today, technology is moving at an accelerated pace which requires a new set of working skills. If our state is to keep pace and maintain a global leadership position in manufacturing, we must transform and continuously develop our talent pipeline.
SACA looks forward to a long relationship with Macomb as they, together with industry partner ATS Midwest, begin a thorough review of all of the college's advanced manufacturing programs to ensure SACA certification requirements are incorporated into the programs' core curricula. The parties will also be reaching out to local industry to confirm that SACA certification requirements reflect the skills needed by industry. For more information about SACA and how its Industry 4.0 certifications can prepare your students for the jobs of the future, visit SACA.org or contact SACA Executive Director Jim Wall.