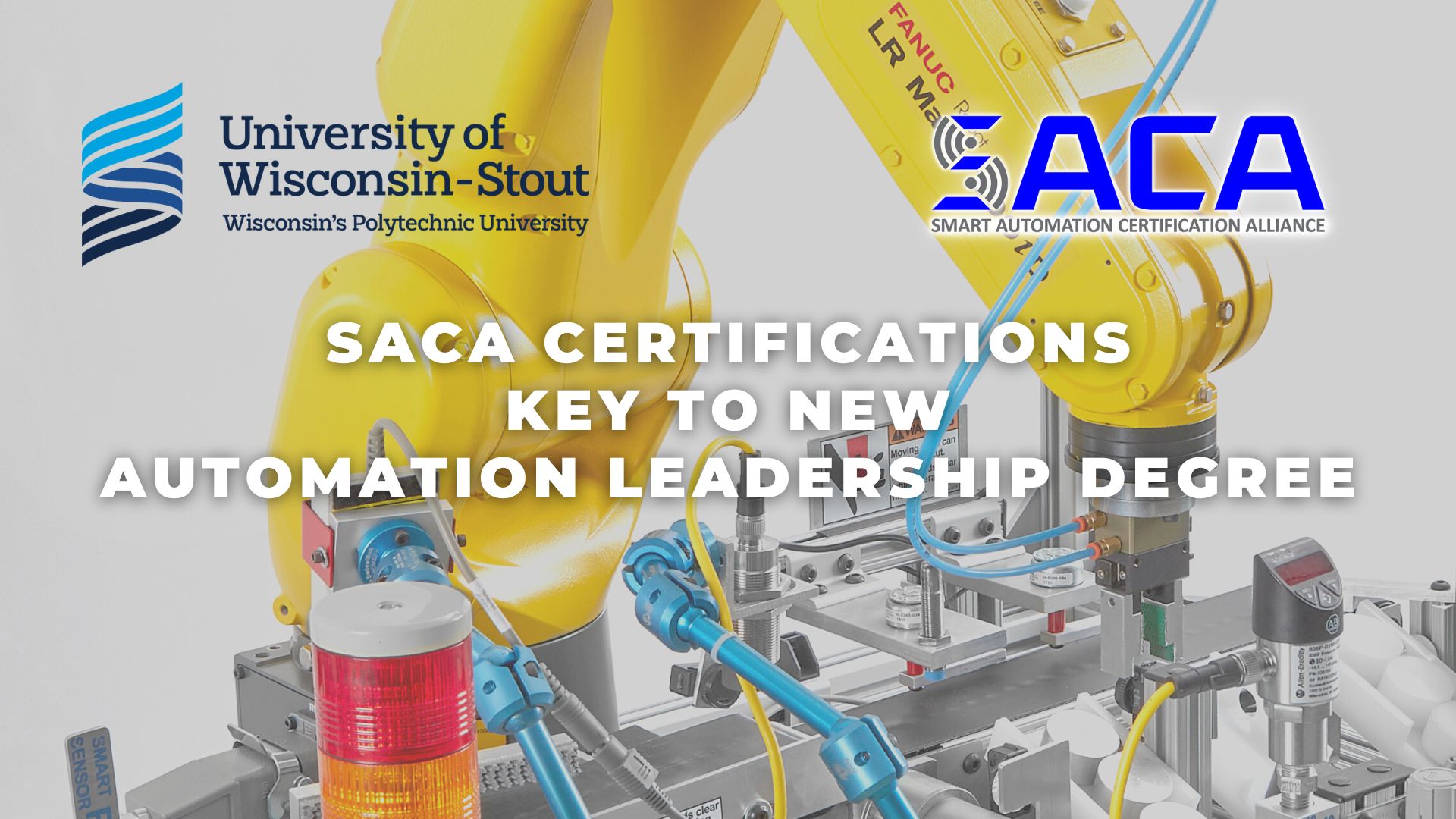 The Smart Automation Certification Alliance (SACA) is pleased to announce that its certifications will play a key role in students pursuing a first-of-its-kind Automation Leadership degree at the University of Wisconsin-Stout.
On June 9, 2023, the UW System Board of Regents approved a new B.S. Automation Leadership degree at UW-Stout for enrollment this fall. As the university noted in its press release:
"The online program is designed for technical and community college students who have an associate degree and incorporates training in SACA…Students also can begin their career path in high school while taking college credits or, if working in industry, return to school as adult learners to finish their degree."
SACA Executive Director Jim Wall is excited for students and workers who now have a new path to turn their SACA credentials into a bachelor's degree. "It's unprecedented that a university system would recognize a credentialing agency at this level," noted Wall.
According to UW-Stout, "[o]ffering courses aligned with [SACA] standards, [the] Automation Leadership degree offers the relevant leadership and management training to enhance your industry-recognized credentials…[and] can be completed entirely online."
SACA board member Matt Kirchner notes that "[t]he integration of industry-backed stackable credentials from the Smart Automation Certification Alliance, the alliances with technical colleges and the hands-on nature of the degree are unmatched."
Kirchner, who also has 20 years of experience as an advanced manufacturing CEO and is currently president of ATS/LAB Midwest, a leading distributor of technical education learning materials, was instrumental in bringing industry experts into the process of developing both SACA credentials and the new Automation Leadership degree.
"We consult with advanced manufacturing employers in Wisconsin and throughout the Midwest – from smaller contract manufacturers to the Fortune 500," Kirchner said. "Almost all of them tell us one of their greatest needs is for team members who understand automation, Industry 4.0, advanced control systems and process optimization and who can integrate highly advanced industrial technology and help lead a company's digital transformation. People with these skills are in unbelievably high demand. This degree hits the mark with precision and does so in a genuinely innovative fashion."
A wide variety of Wisconsin manufacturers assisted during the program's development, including "Harley-Davidson, Kohler, Mercury Marine, Oshkosh Corp., Ashley Furniture, Generac, Greenheck Group and Plexus, as well as many medium and small manufacturers."
About SACA
SACA sits at the forefront of the effort to certify students and workers who demonstrate the required knowledge and hands-on smart automation skills employers so desperately need. SACA's certifications were developed in conjunction with industry partners who could speak from experience about their needs when it comes to workers able to work alongside a variety of advanced automation technologies.
SACA offers a wide variety of certifications in popular industrial skill areas, including certifications at the Associate, Specialist, and Professional level. For those wishing to focus on building a strong foundation of skills employers need, SACA also offers many micro-credentials that allow students and workers to add certifications as they master new areas.
For workers, SACA certifications can help market their smart automation skills to potential employers. For those employers, SACA certifications represent confirmation that a worker has the skills to hit the ground running in the workplace. To learn more about Industry 4.0 certifications and how SACA can help both future workers and industrial employers begin the task of bridging the Industry 4.0 skills gap, contact SACA for more information.