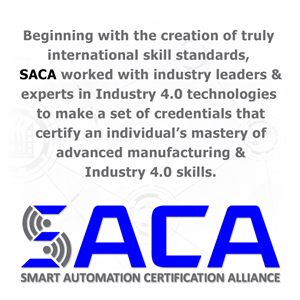 The evolution of automated technology continues to transform the world's industrial workplaces in countless ways and there's no sign of this industrial metamorphosis losing momentum. As Industry 4.0 technology adoption increases, how do companies ensure that potential and current employees have the necessary skills to keep up? Many employers use certifications as a measure of competency, but credentials for Industry 4.0 technology and skills are often tied to specific brands of equipment. But why limit the training spectrum by using a specific brand? How does this make sense when facilities use equipment from multiple brands on their shop floor? What about something more universal, like a certification for job tasks regardless of the equipment used on the manufacturing floor?
The Smart Automation Certification Alliance (SACA), a non-profit organization with the mission to develop and deploy modular Industry 4.0 certifications for a wide range of industries, was founded to aid companies that need employees that are fully versed in cutting-edge Industry 4.0 skills. Working with industry leaders to develop these standards and certifications, SACA built industry-driven credentials with input from companies like FANUC, Rockwell Automation, the Hershey Company, Ashley Furniture Industries, and many others. SACA is also designated as a Standards Recognition Entity (SRE) by the United States Department of Labor.
SACA Certifications: Built for Industry by Industry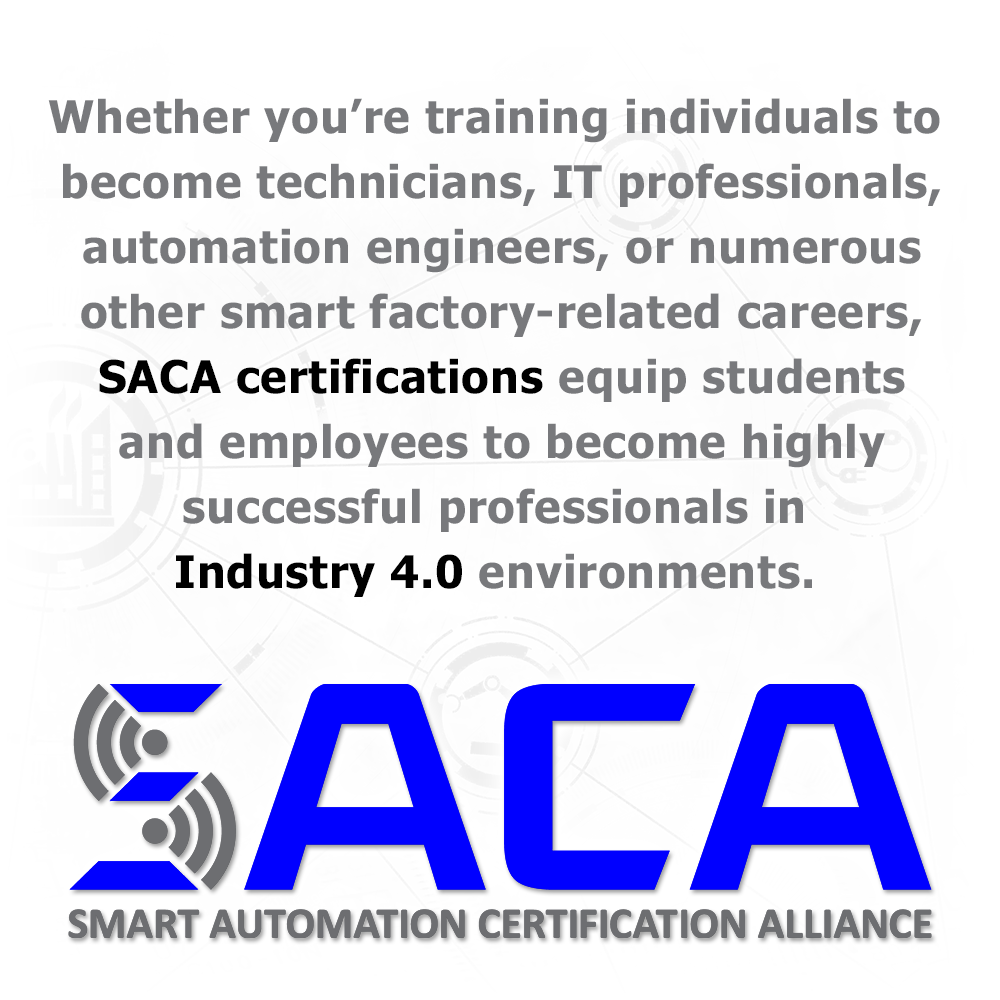 Developing the certifications was a rigorous process. Beginning with the creation of truly international skill standards, SACA worked with industry leaders and experts in Industry 4.0 technologies to make a set of credentials that certify an individual's mastery of advanced manufacturing and Industry 4.0 job tasks. SACA conducts annual reviews for the certifications ensuring that they remain current as technologies and processes continue to evolve at a rapid pace. By focusing on job tasks and the skills required to perform those tasks, SACA's certifications give employers assurance when they're hiring new employees, provide proof of competency for those seeking jobs with companies that have adopted Industry 4.0 technologies, and provide schools and colleges with the confidence that they're teaching relevant skills.
Who Benefits from SACA Certifications?
Whether you're training individuals to become technicians, IT professionals, automation engineers, or numerous other smart factory-related careers, SACA certifications equip students and employees to become highly successful professionals in Industry 4.0 environments. SACA offers certifications in three stackable categories: Associate, Specialist, & Professional. These certifications use a modular structure that provides flexibility to fit a wide range of individual needs, industries, and educational environments.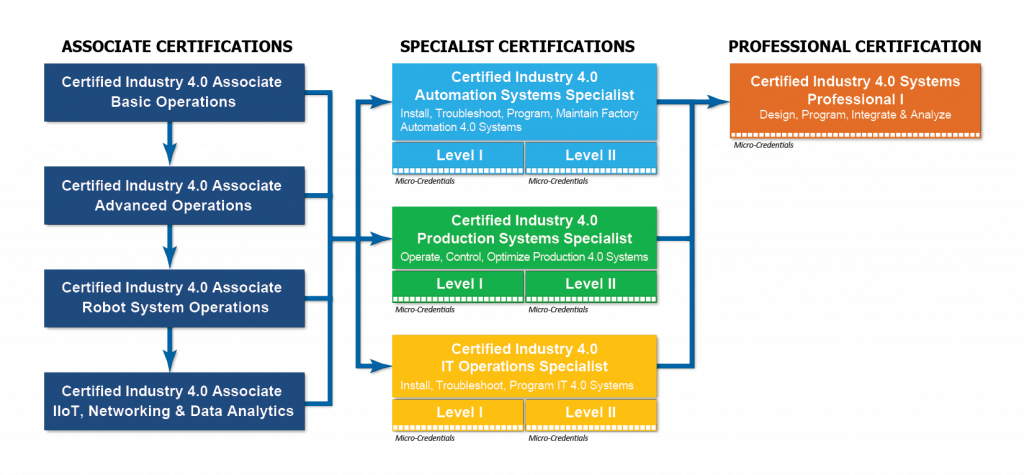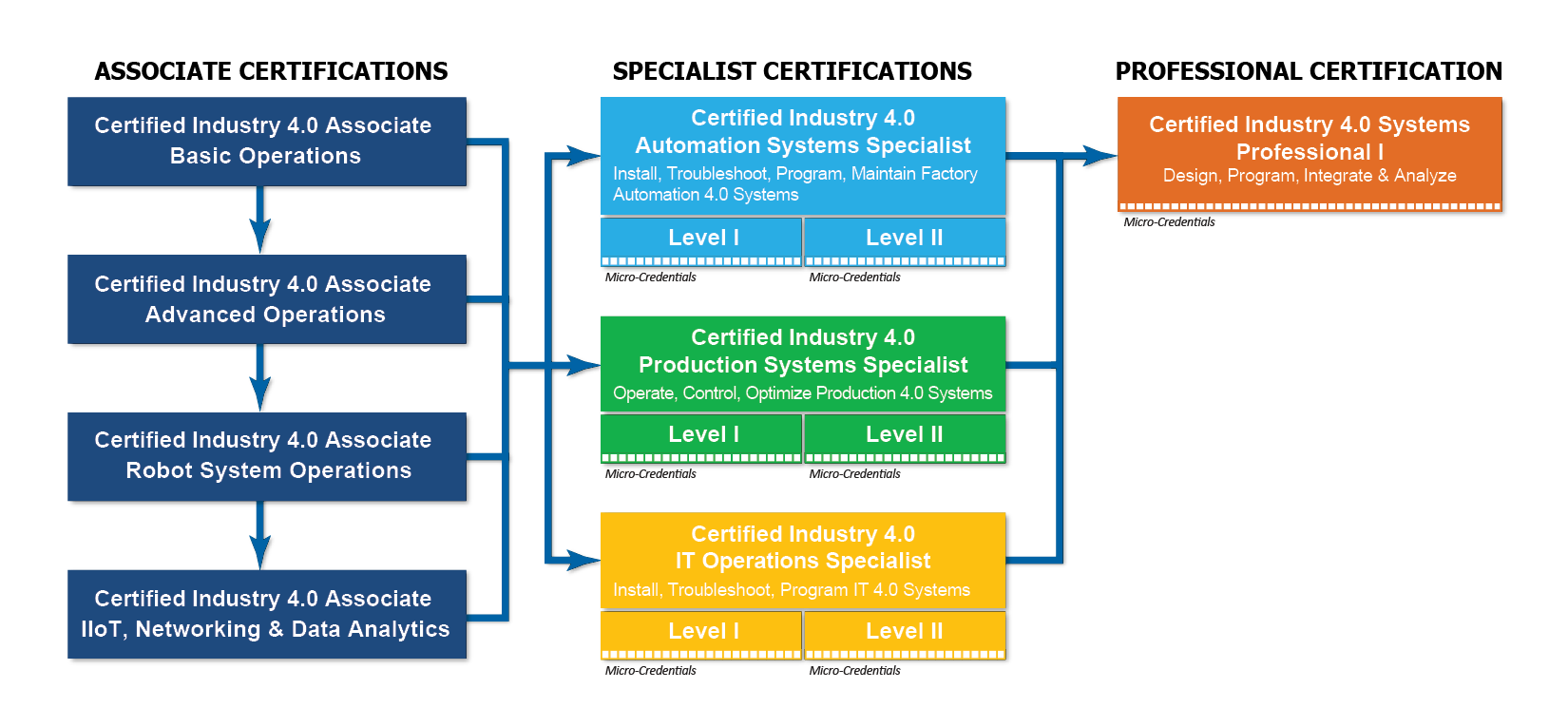 Additionally, the Specialist and Professional-level certifications contain stackable micro-credentials that build upon each other to complete comprehensive certifications. For example, an individual can begin earning micro-credentials for electrical systems, pneumatic systems, robotic operations and many more, which would eventually stack up to SACA'S Certified Industry 4.0 Automation Systems Specialist I credential.
Or companies can use individual micro-credentials to verify that their workforce is up-to-date with the latest technologies and skills to close any skill gaps that already exist. With so many choices in micro-credentials, individuals can quickly transform into versatile team members that can help with a variety of smart factory applications.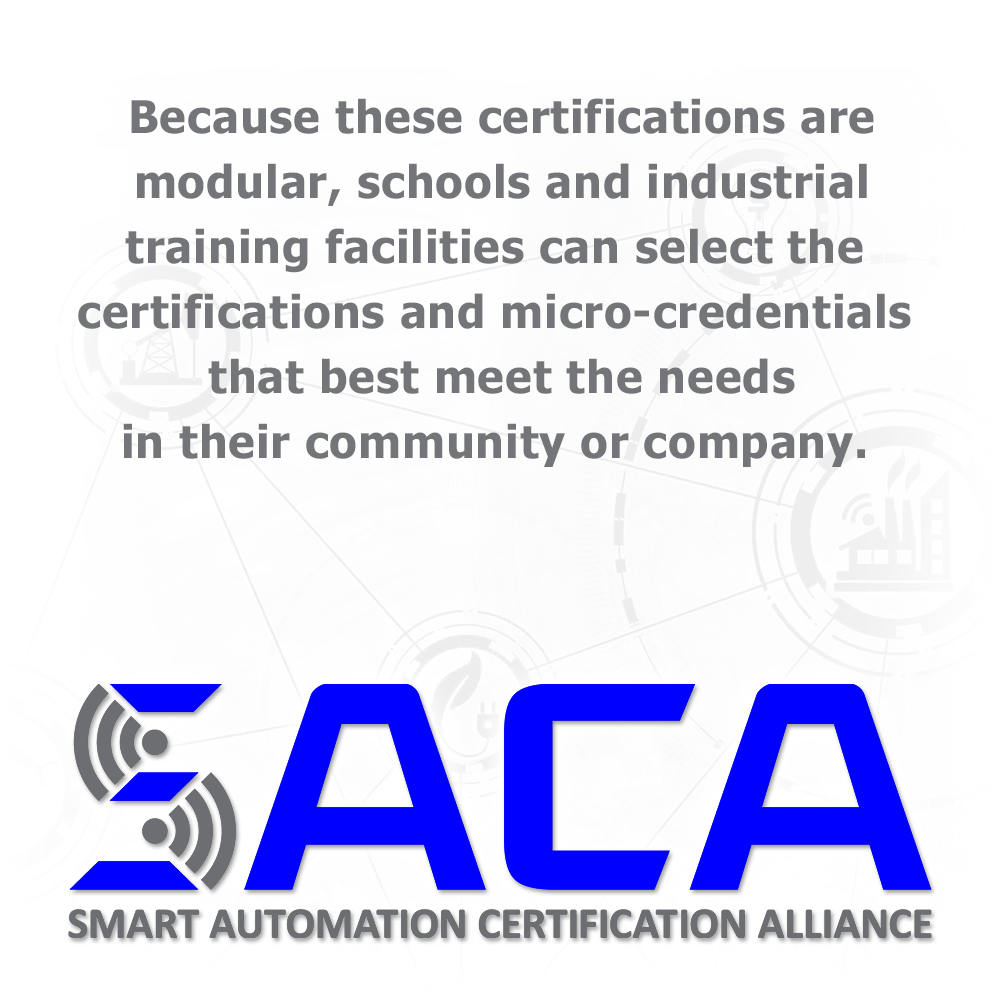 Because these certifications are modular, schools and industrial training facilities can select the certifications and micro-credentials that best meet the needs in their community or company. In many cases, there's no need to purchase additional training equipment to prepare for the certifications. Many of the skills and micro-credentials from SACA rely on equipment schools or training centers may already have.
How Can Someone Get a SACA Certification?
To attain SACA certifications, individuals must be employees or students of a SACA member institution. Individuals can prepare for the online examination using any text, online courses, or other means that align with the standards. Individuals passing the written examination receive a Silver Credential. Individuals can also demonstrate hands-on competencies on industrial-grade equipment that they'll see in the workplace. If someone passes both the written and hands-on examinations, they will receive a SACA Gold-level Credential.
SACA certification examinations and hands-on testing are performed at SACA Authorized Testing Centers. Organizations can become a testing center by becoming a SACA member.
How Do I Become a SACA Member? What Are the Benefits of SACA Membership?
SACA offers membership for both educational institutions and industry, so professionals representing those organizations that are interested in membership can reach out to SACA on SACA.org. Educational memberships for high schools and colleges enable these institutions to become authorized certification centers, deliver free certifications to students, and stay informed about the latest developments in Industry 4.0 technology. Companies get all of the aforementioned benefits of educational memberships with additional incentives unlocked by different levels of industry membership. For instance, companies that are Silver Members and above will have a portion of their membership fee designated for named scholarships to sponsor educational institutions and teachers starting new Industry 4.0 certification programs.
Contact SACA Today to Learn More
Industry 4.0 is here and being rapidly adopted by companies around the globe. If students, employees, and companies aren't preparing and keeping up with this wave of big data, they'll get swept away by the competition. SACA can help all of the above to adapt and prepare for success. Fill out a contact form to learn how to join SACA, where to find testing sites, and how to get certifications in the hands of your students and employees.