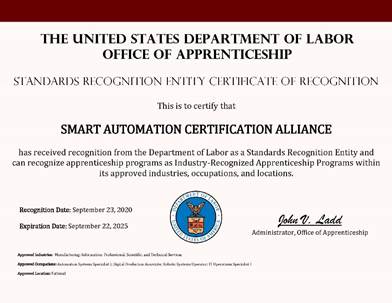 On September 23rd, 2020, the Smart Automation Certification Alliance (SACA) was one of 18 initial organizations designated as a Standards Recognition Entity (SRE) by the United States Department of Labor. This designation allows SACA to "evaluate and recognize high-quality IRAPs (Industry-Recognized Apprenticeship Programs) consistent with the Department's standards." IRAPs are vital for industry as they are eligible for workforce development funds, so the training cost to the company can be offset.
This designation also allows SACA to work with companies and/or schools and non-profits that work with companies to create and build IRAPs that are aligned to both local industry needs and industry-recognized credentials.
What is an SRE?
Apprenticeship.gov states that a Standards Recognition Entity (SRE) is a third-party organization such as a trade group, company, educational institution, government agency, nonprofit organization, union, etc. that is designated by the United States Department of Labor to recognize apprenticeship programs as IRAPs. SREs were created to, "expand apprenticeship opportunities in industries where apprenticeships have been underutilized." As examples of what SREs are responsible for, SREs will recognize or reject IRAPs, provide IRAP program and performance data to the Office of Apprenticeship, and establish policies and procedures for recognizing and validating compliance of IRAPs.
Industry-Recognized Apprenticeship Programs (IRAPs) are high-quality apprenticeships programs that have been approved by Department of Labor Standards Recognition Entities (SRE) and delivered by, "trade and industry groups, corporations, non-profit organizations, educational institutions, unions, and joint labor-management organizations." The purpose of IRAPs is to provide individuals with paid work and training – complete with an industry-recognized credential – within industries where a skills gap is present in order to strengthen both the workforce and industry. High-quality IRAPs must meet requirements such as: providing paid work, having a written training plan, providing a safe work environment, being an Equal Employment Opportunity position, giving credit for prior knowledge, providing mentorship, and linking the program to industry-recognized credentials, to name a few.