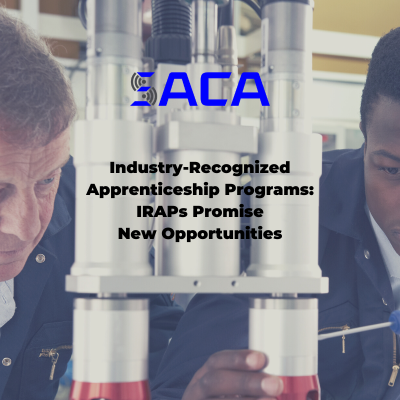 LOUISVILLE, KY—OCTOBER 14, 2020
Industries across the United States have been struggling for years to fill open positions with qualified workers. Despite widespread recognition of the problems industries face, the skills gap has continued to widen.
Rather than bringing new solutions, 2020 instead saw a global pandemic make an already-tough jobs situation worse. Due to the COVID-19 crisis, millions of American workers have lost their jobs, many of them permanently.
As the U.S. seeks to recover from "the most devastating economic crisis since the Great Depression," there is no shortage of problems that must be addressed and solutions that need to be formulated. How effective those solutions are will dictate the speed and scope of economic recovery.
Unlike past economic recovery initiatives that often pushed people toward college degrees, experts believe that our current economic recovery from the COVID-19 Recession must instead focus on practical skill development for jobs industries need. To that end, community colleges and skills training may play a critical role.
Another potential solution with a proven track record of success is apprenticeship. In fact, many believe new industry-recognized apprenticeship programs (IRAPs) will provide fresh opportunities for both American workers and industries that desperately need skilled talent. How? IRAPs will expand the use of the apprenticeship model to industries that haven't used it or have underutilized it in the past.
What Are IRAPs?
So what exactly are IRAPs anyway? According to the U.S. Department of Labor's (DOL) Apprenticeship.gov website:
"Industry-Recognized Apprenticeship Programs are high-quality apprenticeship programs recognized as such by a Standards Recognition Entity (SRE) pursuant to the DOL's standards. These programs provide individuals with opportunities to obtain workplace-relevant knowledge and progressively advancing skills. IRAPs include a paid-work component and an educational component and result in an industry-recognized credential. An IRAP is developed or delivered by entities such as trade and industry groups, corporations, non-profit organizations, educational institutions, unions, and joint labor-management organizations."
For example, the Smart Automation Certification Alliance (SACA) was recognized as one of 18 initial organizations designated as an SRE by the DOL on September 23, 2020. SACA may now evaluate and recognize IRAPs consistent with DOL standards.
What are those standards? According to the DOL's IRAP Fact Sheet, high-quality IRAPs must meet the following 10 requirements:
Paid Work
Written Training Plan
Written Apprenticeship Agreement
Specialized Knowledge and Experience
Safety
Equal Employment Opportunity
Credit for Prior Knowledge
Mentorship
Industry-Recognized Credentials
Disclosure of Costs and Fees.
When Were IRAPs Created?
IRAPs are a relatively-new solution in the area of workforce development. Their history can be traced back to June 15, 2017, when President Trump issued an Executive Order to Expand Apprenticeships in America.
According to a DOL press release, the order established the 20-member Task Force on Apprenticeship Expansion, which was "headed by the Secretary of Labor and co-chaired by the Secretaries of Commerce and Education."
The DOL's IRAP Fact Sheet notes that the president's order "directed the Secretary to consider proposing regulations that promote the development of apprenticeship programs by third parties…especially in sectors where apprenticeship programs are insufficient."
The Task Force subsequently recommended the establishment of IRAPs in May 2018. Eventually, as the IRAP Fact Sheet notes:
"To address America's skills gap and to rapidly increase the availability of high-quality apprenticeship programs in sectors where apprenticeship opportunities are not widespread, the [DOL] has issued a Final Rule that establishes a system for advancing the development of high-quality IRAPs."
IRAPs then became official when new regulations took effect on May 11, 2020.
How Do IRAPs Differ from Traditional Apprenticeships?
According to a recent Forbes article by Ryan Craig:
"For years, policy makers have struggled with the question of how to expand apprenticeships from traditional blue collar building and industrial trades to fast-growing sectors like technology, healthcare, and professional services. On a per capita basis, the U.S. is far behind other nations: Germany has nearly 20x as many apprentices, and the UK has 14x."
Craig further notes that the goal of IRAPs is:
"to increase the number of actual American apprentices from 500,000 to 5 million by decentralizing apprenticeship authority from the DOL to hundreds of third party IRAP authorizers [SREs]…The expectation is that while DOL registered apprenticeships are infamous for the amount of paperwork required, IRAPs will be much less onerous and therefore more popular."
Rather than taking apprenticeships in an entirely new direction, IRAPS are "intended to run in tandem with the department's long-established registered apprenticeship program," according to an article from the Community College Daily website. Indeed, the DOL's IRAP FAQ clearly notes:
"IRAPs and RAPs [Registered Apprenticeship Programs] will work on parallel tracks with the support of the Department. The Registered Apprenticeship system has produced successful results in many industries for over 80 years and it will continue to do so. The industry-led, market-driven approach outlined in the IRAP final rule will give employers and other stakeholders the additional flexibility necessary to expand the apprenticeship model into new industries where registered programs are less prevalent and to address the diverse workforce needs of different industries and occupations. IRAPs provide a new apprenticeship pathway that lets industry organizations take the lead in identifying high-quality apprenticeship programs and opportunities based on the needs in their industry."
Consistent with the goal of expanding the apprenticeship model to new industries, one notable difference between IRAPs and RAPs is that SREs are prohibited from recognizing IRAPs in the construction industry. According to article by Katie Spiker from the National Skills Coalition:
"This carve out was…the subject of a massive campaign by the building trades unions…According to proponents of the construction industry exclusion, and the Department in their justification of excluding construction in the final IRAP rule, the fact that the majority of U.S. apprenticeships are in the construction industry is evidence the model is effective for the industry and that expanding IRAPs to construction is not necessary to meet the goal of expanding apprenticeships in the U.S."
Who Will Benefit from IRAPs?
The DOL clearly outlines a set of expected benefits to both workers and businesses in its IRAP Fact Sheet. For businesses, the DOL expects IRAPs to:
provide an additional pathway to assist career seekers and job creators;
serve the needs of business by expanding apprenticeships across more industries;
use innovative, industry-driven approaches to scale a proven workforce education model;
allow more flexibility to design apprenticeship programs that meet business needs; and
supply an immediate pool of workers for today and skilled talent for tomorrow.
For workers, IRAPs are expected to:
offer opportunities to earn and learn, while obtaining valuable, portable, industry-recognized, competency-based credentials;
provide training in standards that are developed by the industry, ensuring an apprentice develops the skillset needed for career success;
increase the opportunities for apprenticeship programs across all sectors in the economy; and
provide an alternative to college for finding career success that allows workers to obtain high paying jobs without going into debt.
Katie Spiker echoes the view that both workers and businesses should benefit from IRAPs: "The IRAP initiative is evidence of the need to modernize apprenticeship, expand access to workers to earn industry-recognized credentials and allow businesses to play more of a role in helping tailor the kind of training their workers receive to meet their specific needs."
While traditional registered apprenticeship programs have been successful for years, Roy Maurer notes in a recent article for SHRM, the Society for Human Resource Management, that "only about 0.2 percent of the U.S. workforce has taken advantage of the programs, primarily in trades and construction." The DOL believes IRAPs "will effectively expand apprenticeship in telecommunications, health care, cybersecurity and other sectors where it's currently not widely used."
Rachel Greszler, senior policy analyst at The Heritage Foundation, believes the benefits to workers are clear:
"The [IRAPs] rule is an important step in opening up more nontraditional and affordable education opportunities that could particularly benefit younger Americans who have been left behind by America's higher-education system, as well as current workers who have been negatively impacted by changes in industry and technology. It's not in everyone's best interest to pursue an expensive four-year college education, and these types of apprenticeships make it possible for individuals to obtain the education they need for a promising career without taking on debt, and instead, actually being paid in the process."
As U.S. Labor Secretary Eugene Scalia summarized in a DOL press release:
"As workers seek to reenter the workforce following the economic disruption caused by coronavirus, [IRAPs] and the SREs that recognize them will provide new opportunities for Americans to earn a living while learning the skills needed in a changing job market."
Where Can I Learn More About IRAPs?
According to Ryan Craig:
"There are millions of unemployed workers whose jobs are unlikely to return once the pandemic subsides. So one of the most important policy questions in America today is how they'll find paths back to work…If there is an answer, apprenticeships will almost certainly play a leading role."
If you want to learn more about IRAPs and the SREs who will be helping to bring them to life, be sure to check out the DOL's Apprenticeship.gov website. The latest information and developments will be posted there as IRAPs take shape and begin to fulfill the goal of expanding apprenticeships into new industries while helping workers gain new skills.