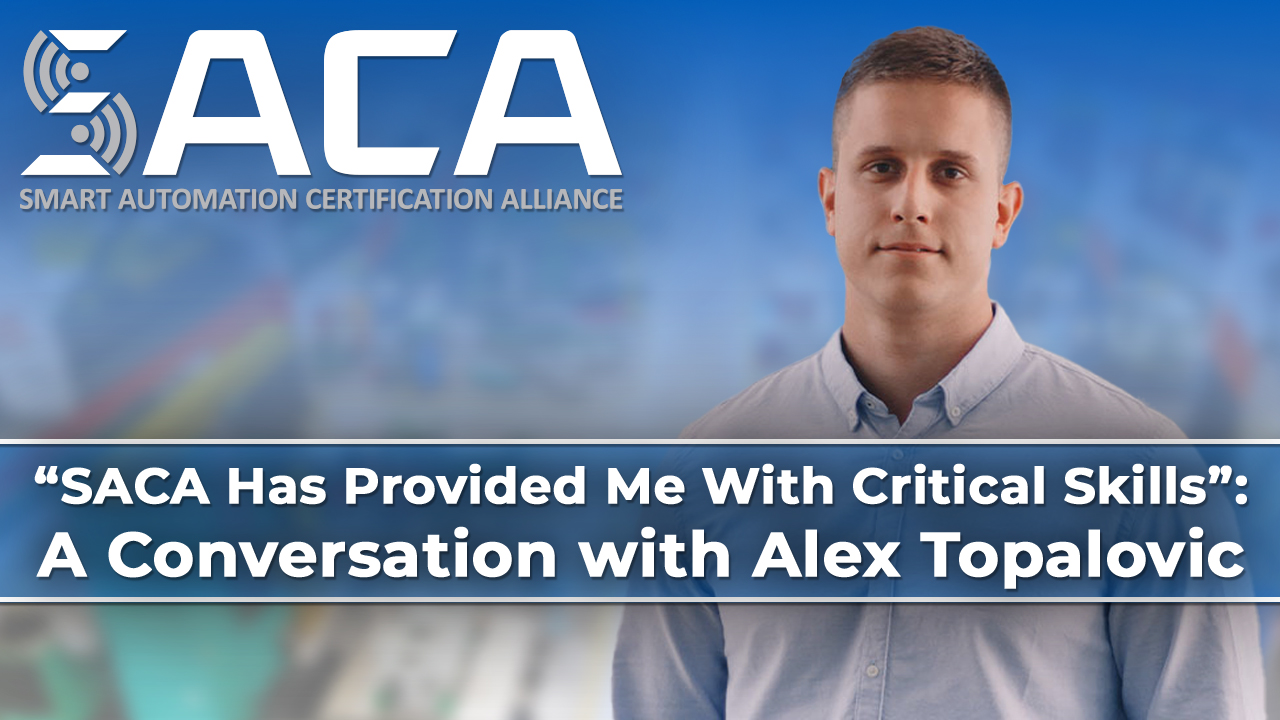 ---
Alex Topalovic, a Project Manager at northern Indiana-based enFocus and recent Conexus Rising 30 award recipient, completed SACA C-101 and C-102 certifications in the spring of 2022 at the Ivy Tech -Elkhart/South Bend campus. We sat down with him to discuss why he chose to pursue SACA certifications and how he believes they've strengthened his understanding of advanced manufacturing and logistics (AML).
Topalovic is a native of Belgrade-Serbia, studied Global Management ('19) at Earlham College in Richmond, Indiana, and then received a master's degree from the Massachusetts Institute of Technology (MIT). Topalovic also completed internships at the Richmond Baking Company and Fiat Chrysler Automobiles, competed in supply chain competitions at ASCM Deloitte and Conexus Rolls-Royce, and co-founded Digital Leader, an IT startup / platform that helps high school teachers develop digital leadership and technology skills among their students.
Topalovic is also a recent winner of the Conexus Rising 30 award given to people under 30 years of age that are "bringing exceptional leadership and innovative thinking to bear on [advanced manufacturing and logistics] toughest challenges." Conexus Indiana is a non-profit initiative that facilitates industry, academic, and public sector partnerships to position "the Hoosier State as the best place for advanced manufacturing and logistics industries to innovate, invest, employ and succeed." Of the award, Topalovic said, "Conexus has allowed me to make several connections in the state and work to further bettering Indiana's manufacturing industries."
Currently working as a Project Manager at enFocus, Topalovic has been praised for playing a key role in actionable process improvements to "sharpen supply chain, manufacturing, R&D, and market access," including the deployment of Transformation XP, which "helps companies improve on-time delivery, reduce stock outages, increase revenue, and improve customer satisfaction."
"I work for enFocus because there are many opportunities in AML in the state of Indiana," says Topalovic, "so I help with talent development and recruitment to the state. Working with organizations like the University of Notre Dame and the Eli Lilly Endowment, Inc., we create innovative research projects to attract and retain talent in South Bend area." Specifically, in regards to Notre Dame, Topalovic works with iNDustry Labs, the university's platform for collaborating with local industry.
SACA Certifications
Manufacturers looking to improve efficiency and increase productivity are increasingly looking to advanced Industry 4.0 technologies to automate their operations and processes. Technologies like artificial intelligence are transforming modern manufacturing facilities, but their adoption is not without hurdles.
In the spring of 2022, Topalovic completed Gold Certifications in C-101 (March 23,2022) and C-102 (May 17, 2022) within the Ivy Tech's Smart Manufacturing and Digital Integration program. Topalovic says that his past experience with Rolls Royce and Deloitte Fiat prompted him to attain SACA certifications so that he could better understand the concepts and skills outlined in the C-101 and C-102 Credentials.
"SACA has provided me with critical skills through hands-on training, curriculum, and multimedia. I like the Silver and Gold certifications and the clear pathways through the program to achieve industry specific skills," says Topalovic. Further, he said, "I like how the clear understanding of certification hierarchy levels, hands-on training skills, and curriculum follow the course well."
Not only was Topalovic satisfied with his SACA experience, but he's also said that he's looking forward to attaining higher level SACA credentials in the future and has recommended SACA certifications. "I see several other businesses using SACA certifications. I have recommended these certifications to several co-workers."
Topalovic particularly praised the Gold-level SACA certifications, which reinforce skills with hands-on practice and ensure that people can demonstrate practical application of the skills that they have learned: "Amatrol training equipment and materials helped with understanding course content. The equipment provided by Amatrol in Ivy Tech Training facility was of high quality and amazing how it was able to teach all the course concepts. This differs from other certifications I have taken in the past which do not have equipment to supplement course content."
Overall, Topalovic not only has an optimistic outlook on SACA Certifications and their application, but the future of AML in the state of Indiana as a whole:
"Indiana's business friendly practices coupled with strong emphasis from government leadership and organizations including Conexus to promote Advancing AML have led to Indiana being one of the leading manufacturing states. Indiana is a great state with great culture. The people work extremely hard and the industries surrounding Northern Indiana provide many opportunities for professionals to Advance their career in AML. Manufacturing is vital to Indiana's economy and ranks as one of the top states in nation in relation to the percentage of state GDP. I am very proud to be a part of this!"
To learn more about SACA, please download our brochure or read an interview with our Executive Director, Jim Wall.