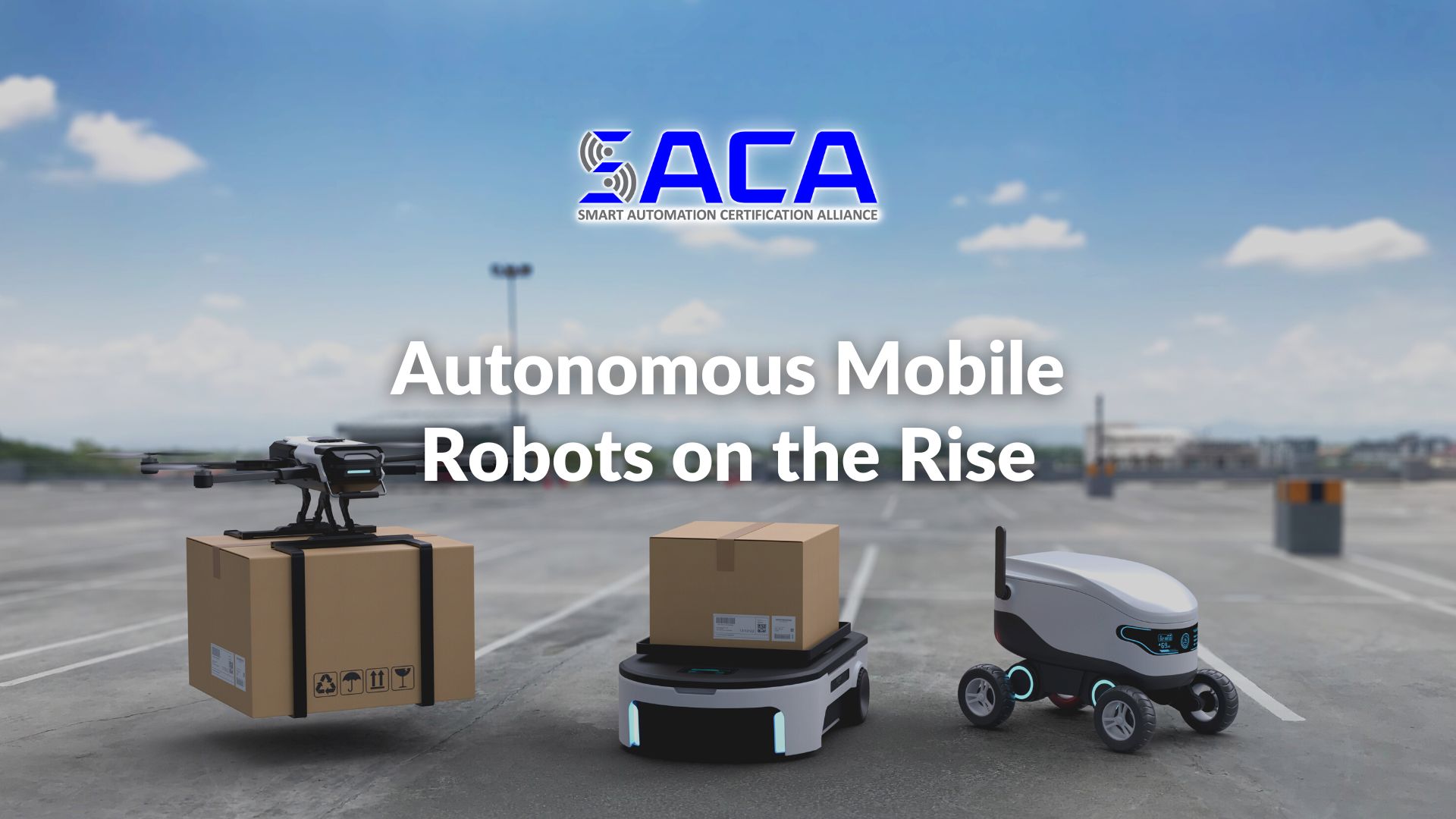 "Transform and roll out!" This command probably echoes in the memories of those familiar with Optimus Prime and the Autobots from the Transformers cartoons, graphic novels, and Hollywood blockbuster movies. However, it could also be the rallying cry of manufacturing workers in smart factories all around the world today.
As advanced automation technologies continue to revolutionize how modern manufacturers operate, more and more facilities have embraced the use of autonomous mobile robots, commonly known as AMRs. Unfortunately, the implementation of AMRs seems to be moving at a faster pace than manufacturers can hire workers with the skills to operate, maintain, troubleshoot, and repair them.
This disconnect between the number of open manufacturing positions and the number of highly-skilled workers available to fill them is known as the "skills gap," and it's at its widest in those industries adopting advanced automation technologies that need workers with advanced Industry 4.0 "connected systems" skills.
In this article, we will take a closer look at AMRs and how their increasing popularity will increase the need for workers with smart automation skills. We'll also detail how the Smart Automation Certification Alliance (SACA) can help ensure the next generation of workers possesses the skills they will need to succeed in the modern manufacturing workplace.
What is an Autonomous Mobile Robot?
When you think of a robot, what comes to mind? For some, the word "robot" may bring to mind images of the robot maid from The Jetsons cartoon or R2-D2 from the Star Wars movies. Others may envision large, stationary robot arms welding or moving heavy equipment on an assembly line.
Not surprisingly, autonomous mobile robots or AMRs are neither of these things. According to an Intel article, an autonomous mobile robot is "a type of robot that can understand and move through its environment independently."
Different than automated guided vehicles (AGVs), which rely upon a specific track or operator intervention, "AMRs use a sophisticated set of sensors, artificial intelligence, machine learning, and compute for path planning to interpret and navigate through their environment, untethered from wired power."
AMRs are finding homes in a variety of industries, including "[w]arehouses, logistical companies, agriculture businesses, and healthcare institutions." Any business could benefit from using AMRs if it's "looking for new and innovative ways to improve operational efficiency, enhance speed, ensure precision, and increase safety."
For example, AMRs can enhance workplace safety by performing "tasks that would be harmful to or not possible for human workers. For example, they may be used to clean and disinfect areas for improved health and safety, transport contagious laboratory specimens in hospitals, carry heavy loads in industrial environments, or work in extreme conditions where humans cannot and should not be working."
AMRs also offer users improved efficiency and productivity. For example, "[t]o enable employees to focus on high-value activities, such as customer support, businesses often use AMRs to assist with locating, picking, and moving inventory. When productivity is key, many businesses turn to low-powered AMRs that require less energy to function. Less power to operate means AMRs can recharge and return to work quicker, reducing downtime and keeping production and fulfillment going."
What is Last-Mile Delivery?
The benefits of AMRs within a factory's walls probably seem clear, but what about outside those walls? Can you imagine AMRs operating out in public? If that seems too much like science fiction, get ready to witness the future.
AMRs are becoming one the latest high-tech solutions to the problem of last-mile delivery. If you're not familiar with that term, an Inside Intelligence article by Shelagh Dolan explains that "[i]n a product's journey from warehouse shelf, to the back of a truck, to a customer doorstep, the "last mile" of delivery is the final step of the process — the point at which the package finally arrives at the buyer's door."
As Dolan notes, "[i]n addition to being a key to customer satisfaction, last mile delivery is both the most expensive and time-consuming part of the shipping process." In a nutshell, "the last mile problem is inefficiency."
For example, in rural areas, there can be multiple miles between stops. In the urban environment, however, stops may be very close together, but traffic congestion can slow the delivery process to a crawl.
Because e-commerce continues to grow year after year and consumers increasingly expect both fast and free shipping, last-mile delivery costs have grown substantially, accounting for more than half of the total cost of shipping in most cases.
This is why more and more companies are "looking to implement new technologies and drive process improvements" to solve the last-mile delivery problem. Dolan concludes that, "with the ongoing integration and enhancement of automation across industries, it's likely we'll start seeing delivery robots, drones, and self-driving vehicles making many of these drop-offs in the not-so-far future."
A recent Material Handling & Logistics article echoes that conclusion: "[l]ast-mile delivery revenues [by AMRs] are forecasted to grow from $70 million in 2022 to US$670 million in 2030, according to new research from ABI Research. Additionally, the value of those parcels delivered by Autonomous Mobile Robots (AMRs) could reach $3.3 billion by 2030."
"The use of automation will continue to grow as governments increase regulatory approvals, more companies scale revenue-producing operations, and both consumers and businesses find value in low touch, quick delivery of their items," explains Adhish Luitel, senior analyst, Supply Chain Management & Logistics at ABI Research.
Indeed, "[a]s these autonomous vehicles grow from university campuses to the suburbs and city streets, companies will be able to judge not only their financials but also the response from the larger communities as they adjust to sharing their sidewalks, streets, and crosswalks with these efficient machines."
With the anticipated growth of AMRs both inside and outside the walls of industrial facilities nationwide, it's going to be more important than ever for employers to find workers with the skills to operate, maintain, troubleshoot, and repair these advanced automation technologies. That's why industry-standard certifications addressing advanced "connected-systems" skills will be a key tool for both employers and future workers.
Why are SACA Certifications Important Today?
The Smart Automation Certification Alliance (SACA) sits at the forefront of the effort to certify students and workers who demonstrate the required knowledge and hands-on smart automation skills employers so desperately need.
SACA's certifications were developed in conjunction with industry partners who could speak from experience about their needs when it comes to workers able to work alongside a variety of advanced automation technologies.
For example, SACA offers a wide variety of certifications in important industrial subject matter areas, including: electrical, motor control, programmable controllers, mechanical, pneumatics, hydraulics, automation, Industry 4.0 technologies, robotics, electronic sensors, smart factory operations, process control, Ethernet communications, networking, data analytics, and predictive maintenance.
For workers, SACA certifications can help market their smart automation skills to potential employers. For those employers, SACA certifications represent confirmation that a worker has the skills to hit the ground running in the workplace.
To learn more about Industry 4.0 certifications and how SACA can help both future workers and industrial employers begin the task of bridging the Industry 4.0 skills gap, contact SACA for more information.
About Duane Bolin Duane Bolin is a former curriculum developer and education specialist. He is currently a Marketing Content Developer for Amatrol, Inc. Learn more about Amatrol and its technical training solutions, including eLearning, here and connect with Duane on Amatrol's Twitter, Facebook, LinkedIn, and YouTube pages.