Indiana Governor's New Initiative Offers Free SACA Silver Certifications for Hoosiers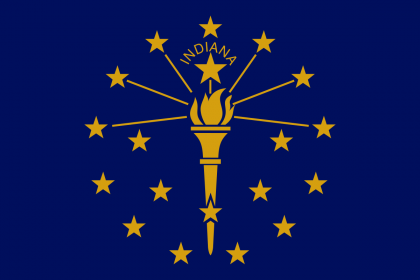 During Indiana Governor Eric Holcomb's June 5, 2020 press conference, a new state initiative was announced that will offer 10,000 free credentials to Indiana residents that have been dislocated from their jobs due to the COVID-19 pandemic. The Smart Automation Certification Alliance (SACA) is one of the organizations offering credentials to displaced Hoosier at no cost. SACA's certifications are task-based and nationally recognized in preparing individuals for rewarding careers working with advanced manufacturing and Industry 4.0 technologies.It's no secret the immense role that Industry 4.0 is expected to play in the future of industrial manufacturing.
These courses can be taken online and feature virtual simulation of industrial applications, which make them ideal for preparing users for the workplace. The online delivery also allows users to practice social distancing guidelines to help prevent the spread of Coronavirus.
Ivy Tech will coordinate enrollment of new students while Amatrol and Aidex will help to promote this opportunity to displaced Indiana residents seeking a new career path. Amatrol will also provide free access to its Learning Management System (LMS) for students enrolled in this program.
When a student completes one of the six courses, they will be eligible to sit for the associated SACA Silver Credential. SACA Silver Credentials are completed solely online while Gold Credentials involve hands-on skill demonstrations. Students are eligible to earn all six SACA Silver credentials.
People interested in these opportunities can visit YourNextStepIN.org, which is part of Indiana's Rapid Recovery for a Better Future initiative. Lubbers said, ""Visitors to the site can talk to a real person to answer questions and help them determine the right path forward and the training options that will help them achieve their goals. These partners and tools help to connect Hoosiers to opportunities — some that already exist — and we will continue to build on these connectors in the weeks and months ahead."
The free courses and associated SACA Credentials are as follows:
Production Operations Technician
Certified Industry 4.0 Associate I (C-101): Students will study Industry 4.0 concepts, safety, quality, technical drawings, machine operation and maintenance, and hand tools.
Certified Industry 4.0 Associate II (C-102): Students will study manufacturing systems performance, mechanical and fluid power systems, programmable controller systems, CNC and additive manufacturing, system communications, and mechatronics.
Multi-Skill Maintenance Technician
Electrical Systems 1 (C-201): Students will study electrical system safety, electrical schematics and diagram, taking electrical measurements using a digital mustimeter (DMM), combination circuits, electrical circuit troubleshooting, and inductive and capacitive circuit analysis.
Electric Motor Control Systems 1 (C-202): Students will study electric motor safety, ladder logic schematics, how to properly ground connections, transformer selection and installation, how to connect and operate a 3-phase motor, and how to connect and operate a variety of electric motor circuits including manual motor, 2/3 wire magnetic motor starter, reversing motor control, hands-off-auto motor control, and basic timer control.
Motor Control Troubleshooting 1 (C-204): Students will study how to troubleshoot motor control components, use a clamp-on ammeter to measure motor current, and troubleshoot a variety of motor control circuits and an AC VFD motor control system.
Pneumatic Systems 1 (C-209): Students will study pneumatic system safety procedures, pneumatic schematics interpretation, how to connect and adjust pneumatic supply lines, how to start up and shut down a reciprocating air compressor, how to connect and operate basic pneumatic circuits, how to monitor system operation, pressure and force, and how to perform basic system servicing.