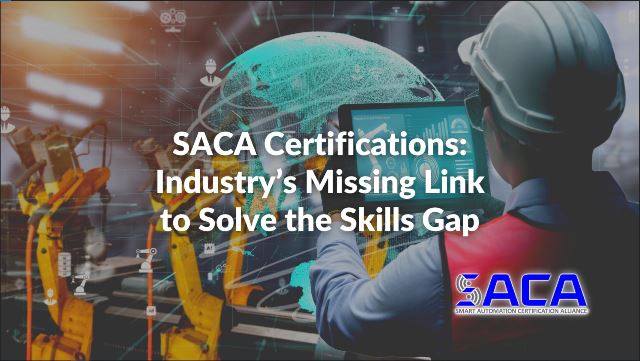 It's no secret that industries of all kinds are battling a serious supply and demand issue. Due to advancing technology and increasing use of automation, employers need more highly-skilled workers than ever before.
Unfortunately, the supply of workers with the advanced technical and technological skills employers need isn't keeping pace. This well-known problem is known as the "skills gap." It's been a problem for a while now, and experts believe it will only get worse in the near future.
What employers need are workers with advanced "connected systems" skills that will help them operate, maintain, troubleshoot, and repair the automation equipment becoming commonplace in facilities that have adopted new Industry 4.0 technologies.
To date, however, industry and educators alike have been missing the key to solve this skills gap: a set of industry-defined and industry-validated standards that clearly define the skills workers will need to succeed in the jobs of the present and future.
Providing that missing link was the guiding vision behind the creation of the Smart Automation Certification Alliance (SACA). In a recent webinar ("SACA Webinar") hosted by Matt Kirchner, President of Lab Midwest, representatives of several major manufacturers spoke about their role in the development of SACA's Industry 4.0 skill standards, as well as how those standards are now guiding their training and education efforts.
SACA's Vision for Industry 4.0 Certifications
Why are SACA's Industry 4.0 certifications so valuable? They speak to the in-demand skills that employers across the country — and across the globe — need so desperately.
Not only do the nation's educational institutions need to build a pipeline of skilled talent to supply employers with the highly-skilled workers they need now and in the future, but incumbent workers also need training to learn the new skills they need to work with the advanced Industry 4.0 automation systems taking over modern manufacturing facilities.
But what are those skills? That's the key question, and answering that question is what brought SACA into existence. According to SACA's Executive Director, Jim Wall:
"SACA's vision from the beginning was to develop a system that's based upon industry-developed, industry-validated standards that truly define the competencies, performance indicators, and knowledge indicators that are required of individuals to succeed in the world of Industry 4.0."
To turn that vision into reality, SACA relied upon a wide variety of companies, educational institutions, and organizations to develop, review, and test SACA certification standards. Experts from well-known industry leaders, such as Rockwell Automation, FANUC, Ashley Furniture, Kohler, Foxconn, Boeing, and Hershey, were instrumental in making sure SACA's Industry 4.0 certifications reflect the competencies that industry needs.
Industry 4.0 is Here to Stay
Several of the industry representatives who shared stories during the SACA Webinar spoke about the changes that Industry 4.0 technologies have wrought and how their companies have been forced to respond.
Al Doty, Advanced Manufacturing Chief Engineer for Harley-Davidson, Inc., revealed that automation has been key to his company maintaining a competitive edge. Not only do new technologies improve efficiency and reduce costs, but Doty noted that employees also expect the company to adopt and use the best technologies available, so that they can perform their jobs more effectively and maintain a positive work-life balance.
Specific new technologies being adopted include advanced robotics and digital twins, according to Scott Theune, President of Plexus. Digital twins are realtime digital counterparts that allow workers to troubleshoot equipment virtually.
In addition to improving efficiency, these new technologies also play a critical role in making manufacturing facilities safer. Improved safety has been a big benefit as industry growth and the skills gap has spurred the need for more automation, noted Andrew Martin, Senior Director of Manufacturing for Generac.
Leaders throughout industry agree: Industry 4.0 is here to stay. According to Michael DeBroux, Senior Mechanical & Automation Engineer and Engineering Supervisor of Greenheck Fan Corporation, "We need to make sure that we are getting personnel and new talent into our company that speaks modern manufacturing languages and is familiar with Industry 4.0 fundamentals."
OT and IT are Converging in Industry 4.0
According to an i-SCOOP article, "It's impossible to talk about the evolutions in manufacturing, industrial transformation and Industry 4.0, innovations in areas such as Industrial IoT without mentioning the convergence of IT and OT."
Historically, operational technology (OT) has referred to "a category of computing and communication systems to manage, monitor and control industrial operations with a focus on the physical devices and processes they use."
Information technology (IT), on the other hand, "is about business and enterprise systems that store, process and deliver information." Because Industry 4.0 technologies are becoming more and more commonplace throughout traditional OT equipment, cybersecurity becomes more critical every year.
According to Jim Molter, IT Manager – Smart Factory Deployment of Kohler Co., "Industry 4.0 is forcing us to break down those silos and start to learn to work together…that's where we're headed. There's not going to be a distinction [between OT and IT] anymore."
Educational Institutions Play a Key Role in Preparing Industry 4.0 Workers
When experts evaluate strategies for bridging the skills gap, it's clear that educational institutions must play a key role in preparing students for Industry 4.0 careers. But can they do it alone?
The answer is no. Educational institutions must partner with industry counterparts to ensure that the knowledge and skills they're teaching will produce students with the valuable skills that industries around the country need.
Anne Troka, Community Engagement Manager for Sargento Foods Incorporated, explains a successful approach she helped to develop called Manufacturing 4.0:
"We started conversations with…four schools and four businesses [to] build a partnership to help students — our future workforce — connect with our businesses to really get skills that we need and skills that the students will need…to make them employable in a variety of different careers, because Manufacturing 4.0 is in manufacturing as well as many other industries."
To date, the partnership has helped to design and build five courses to prepare students for Industry 4.0 careers, including subject areas like mechatronics, industrial controls, robotics, and the Internet of Things. Eventually, students will also be able to earn SACA certifications related to their coursework. In this way, "we're really connecting education to [career] success," concludes Troka.
Industry 4.0 Also Requires Upskilling Current Employees
Unfortunately, employers can't wait for the next generation of highly-skilled workers to emerge from high school or college. As Anthony Ebio, Director of Industry 4.0 Learning for Ashley Furniture Industries, Inc., noted, schools simply aren't "cranking out the learning and the students fast enough."
That's why Ashley Furniture has invested heavily in upskilling its current employees so that they have the advanced skills they need to work with new Industry 4.0 technologies. Ebio noted that they used SACA certifications as a guide when setting up training for incumbent workers: "We found ourselves leveraging a lot of the SACA structure to make sure that we have [curriculum] to support Industry 4.0."
Other companies are following suit. Ken Evans, Associate Maintenance Manager for S.C. Johnson & Son, Inc., noted that S.C. Johnson has partnered with Gateway Technical College to upskill its employees with an eye toward achieving SACA certifications.
So far both young and older employees have been excited about the prospect of learning and gaining new skills. Plus, using SACA certifications as a guide has allowed current employees to see a payoff for their hard work quickly. According to Evans, "under SACA, [current employees] can get incremental steps of recognition and be proud of it, and we're proud of them."
SACA Brings It All Together
If the current skills gap plaguing industries across the world is to be bridged, strategic partnerships between industry and educational institutions must be forged. Schools must begin to produce a pipeline of highly-skilled workers ready to work in an Industry 4.0 environment.
Likewise, industry must upskill its current workforce with the advanced skills needed to operate, maintain, troubleshoot, and repair the Industry 4.0 automation technologies taking over the factory floor.
According to Michael Cook, Director of Global Academic Partnerships for Platinum SACA Sponsor Rockwell Automation, Inc., "no one company can really do this alone…SACA is providing significant leadership here…ensuring that there's a close fidelity between the academic space as well as what we find relevant in industry. That alignment is a significant part of what SACA brings."
To learn more about Industry 4.0 certifications and how SACA can help both educational institutions and industry employers begin the task of bridging the Industry 4.0 skills gap, visit the SACA website and then contact SACA for more information.